Jawa Interactive Kiosk
An Interactive Experience for A Retail Store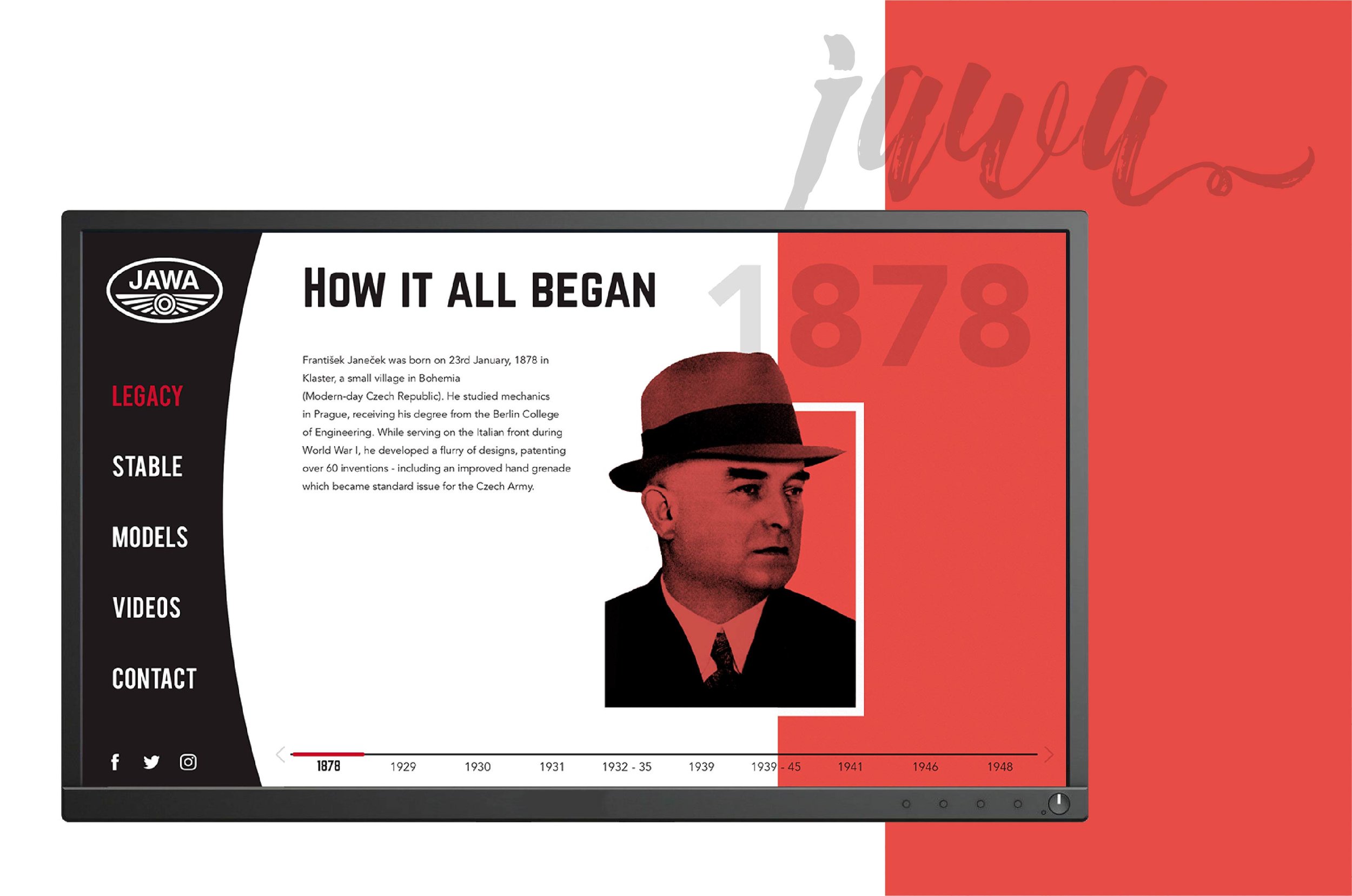 Jawa, a legendary motorcycle brand born in Prague in the 1920s has come alive again in a spanking new avatar. As a part of creating a contemporary-classic retail experience, Elephant Design worked on an Interactive kiosk which would be housed in each store.
The kiosk would be placed in front of the legacy wall in the retail stores, showcasing the legacy and offerings of the Jawa brand through an interactive experience. Combining nostalgia with utility, it would increase the efficacy of customers' waiting time.
We designed engaging interactions for touch screen kiosk experience. To improve navigation, a layered content hierarchy was simplified to two levels. The vertical left navigation was introduced which is persistent throughout the screen, while a horizontal navigation on the bottom was implemented as a secondary navigation. We opted for combined swipe and tap touch gestures to add playful experience.
The Legacy space explored the history of Jawa, allowing users to navigate through important periods. The Stable was an exhibit of the legendary Jawa models, along with their details. The New Models section also showcased Jawa's current motorcycles, with detailed specification about each. We incorporated 360° view for each motorcycle and its variants, wherein the virtual view would be as good as a physical one.
The Contact section provided an enquiry form, where potential customers could fill out on the spot, which enabled the brand to effectively gather customer data. For users to explore more about Jawa brand, we included a QR code to redirect the visitors to the official website.
The visual language for the kiosk was adapted from the Jawa website, tailored to keep in line with the store and its communication. The left navigation section was derived from the curve of Jawa's identity. We experimented with font variations, opacity and colour treatment to maintain content and visual hierarchy. We adapted the vertical colour band on the right, adding a contemporary look to the kiosk. A white background was used for primary content, adding better readability and minimising distraction.
Jawa's interactive kiosk seamlessly integrates into the retail store language, engaging visitors and connecting them with the Jawa Legacy. The touch screen experience enabled end users to explore and connect better with the Jawa Family.